Wordpress
. I noticed very few of my LJ readers have migrated with me. Perhaps you don't feel comfortable with Wordpress or maybe you tried logging on during the initial launch and found it hard to navigate.
I've have streamlined my Wordpress site further and it runs a lot smoother. I would like your feedback on why you have stopped reading my blog since the move. Please fill out the poll in this post and let me know what's going on.
Some reasons why I moved to Wordpress:
1. Less scrolling.
My fashion blog is image-heavy. On LJ, I did not have a way to post multiple images without eating up major page space. This resulted in huge pages where you had to do a lot of scrolling.
2. More professional. I want to take my blog to a higher level. Eventually, I want to set up my own domain. Wordpress gives a streamlined path to that.
3. More visibility. Frankly, I need to earn a living. Wordpress is more suited to that purpose than LJ. I'm interested in attracting designers, who prefer Wordpress to LJ.
Hello everyone! I missed everyone since I moved the blog over to
Current Mood:

sad
It's weird writing my farewell post. I'm used to writing about the random stuff that pops in my head over here.
Now I have a new home over on Wordpress. The learning curve is steep because I can do so much stuff with it.
I want to thank all my readers for reading my blog with so much enthusiasm. Thanks for all the love!
So come check out my new blog:
The Frum Fashionista
over at Wordpress. I hope you like it!
All the best,
Angelina
Hello my fashionistas! I missed y'all so much.
Current Music:

Feel It All Around - Washed Out


I have been so busy that I was not only able to post properly in a loooong time; I have not be checking my personal emails either.

First off, I would like to apologize for any trouble resulting from that. Apparently, my site was being spammed by an anti-sheital person. Many of my newer readers have emailed complaints about this.

Second, I'm moving the blog over to Wordpress. I'm not sure how I'm going to mesh the two worlds together. Unfortunately, LJ can't accommodate the direction I want to take the blog.

So this is what is going to happen:

1. All comments will be screened from now on until they are approved.

2. Please be patient while I get the hang of this screening business.

3. If you post something that goes against minimal tznius standards it WILL not be posted.

4. Play nice. If you turn into a troll and play the fool with other readers you will be banned.

5. Failure to comply with the guidelines so will result in you being banned.

6. I will let everyone know when the new blog is up and running and old entries will be exported to wordpress.

Sometime this week I will post up a mission statement. Please keep in mind that I am trying to keep this blog as open as possible. Also, any further suggestions are welcome! Hopefully, after this the madness will stop.

After all, I'm here to discuss clothing and have fun!
Hey fashionistas! Long time no see... I being working for the weekend for a while now. More on that later this week.
Current Mood:

excited

Current Music:

Feel My Love - Carlito


Tonight, I went to the Junee's Warehouse Sale. I scored huge! I bought:

a maroon velour skirt
a jean skirt
a purple dress
a brown dress
a purple headband
and 3 shells

The damage? $25

everything ran from $3 - $15

Belts were $2; headbands $1

My thoughts:
most items there were 0 - 10. There were very few L, XL, or 2X.
They also had Junee Jr. clothing!

So if you're a size XS - M; you're in luck! The warehouse sale has been extended!
Where: 3921 14th Ave Brooklyn, NY 11218
Friday: 10 - 1
Sun: 10 - 6
For Info Contact (917) 858 - 9377
You know I ♥ a good freakin' sale.
I found "The Great Find" tote.
I needed a neutral that would go with both my black coat and my brown coat. I was leaning towards the red. The red was a lovely deep true red. I chose the grey instead.
Love the purse; it's huge! I think it might overwhelm smaller people. I can use it as everyday work tote. I'm going to put it through it's paces tomorrow and see how it handles. This is one of the few totes that has a great drop for me; not too short nor too long! For $40, this is not bad at all.
As for the shoes, I hit DSW...again.

Lifestride DARE Moc
, $40 (I got it in black)

Miss Me Cupcake Sweater Boot
, $30 (also in black)
Miss Me Sunkist 10 Pointed Toe Pump
, $20
Promo codes used:
SNOWMAN (for the free shipping)
KCPROMO (for $5 off a purchase $5 and up)
213 ($5 off for December birthdays only)
and my DSW rewards certificate.
Now I have to get the little one off to school!
Today, I went to the Nine West outlet and picked up a new purse. I was looking for yet another handbag. The free everyday tote that I got from domino mag is defunct like the magazine. My hubster is resigned to my accessories addiction.
Current Music:

Throwin' Shapes - Minus The Bear
Get the extra long candles to easily cover 90 minutes. Sticking standard Chanukkah candles in the freezer won't work!
Silver Candles
, $7,
Eichler's
Family 3-Pack
, $12,
Eichler's
O.K. I have to light the menorah immediately after havdalah everything is going to be a mess!
I have three lines of defense!
First, I spray this
before
sticking the candles in the hanukkiah:
Wax-off Spray
, $7,
Eichler's
It's also great for getting rid of the resistant bits of wax.
If you're the DIY/frugal type, then you can just whip out your hair dryer. The heat will soften the wax enough to just peel it off.
You can put your menorah on a plain ol' cookie/baking sheet or you can get this:
MenorahMate
, $15,
Bed Bath & Beyond
This has the brochot in Hebrew, English, and Transliterated. Plus, you can pop it in the freezer for a couple of hours and all you have to do is bend it to break off the frozen wax.
As for decor, my personal favorite colors are black, blue, silver, and grey. So most of my decor schemes involve silver.
I'm a unabashed modernist. However, I'm attracted to old school things. Like mercury glass:
Vases
and
Hurricanes
, $12 - $50,
Pottery Barn
I'm equally attracted to hipster kitsch:
Driedel Place Card Holders
, set of 4, $19,
Pottery Barn
I think throwing in a metallic element to my decor amplifies the lights. So that's a very good thing!
Discuss.
and lessen the headache!This year, Hanukkah starts erev Shabbos. So the candles have to be lit before the Shabbat candles. Therefore, the candles have to burn longer than the usual 30 minutes. So what's a fashionista to do?
Current Music:

Impossible - Shout Out Louds
Seriously, doesn't this scream Chrysler building?

Art Deco III
oil menorah, polished nickel, $17, Eichler's
Your eyes are not deceiving you. I showed the brass version yesterday!
Art Deco IV
metal, $49,
Oh Nuts!

Funky Cool Menorah
stoneware, "utopia man/woman," by Jonathan Adler, $295, Modern Tribe
This menorah smacks of antique pottery.
You know, the ones you see in Art History class?
Attention, Wal-Mart shoppers. Wet your whistle on this!
Formal Funky Menorah
nickel-plated, "Gingko," oil/candle menorah, $75,
Wal-Mart
I think of Midsummer's Night Dream, when I see this!

Woodland Bling!
metal w/ crystals and beads, "Jeweled Tree"
$150, Bed, Bath & Beyond
For the Disney addicts!
Disney menorah
handpainted resin, $50,
Eichler's

Flower Power Menorah
enamel, $50, Modern Tribe
Serious Flower Power
metal with glass petals, "Dalia" by Arie Ofir, $330,
The Jewish Collection
I've been scouring for a few weeks to find hip, kosher menorahs. I have included some traditional types just because some people are old school. Plus, I tossed in the pre-requiste kitsch!
Current Music:

Sad Song - Au Revoir Simone
For my son, I tend to buy inexpensive gifts. I try to give him a gift every night. Non-shabbosdik gifts are saved for the weekdays. The first night is on Shabbos so his gift will be put into a gift bag.
I'm also getting 2-3 pairs of pj's for him. I'm trying to find cotton pj's because my apartment is heated on super steam! I figure I'll hit Children's place and stock up because they are running a sale on them now.
Plus, I've been really scattered because I forgot to buy the little man boots. So I have to find a nice pair. My son's winter coat is olive green/orange camoflauge. It has a hood, but I'm a paranoid mom.
So I found these:
Skate park hat,
also in blue, $5,
77kids

Jolly Roger gloves, $5, 77kids
My son also is into nanovor but it's PC only. Boo hiss! Plus, Zhu Zhu pets mania is hitting everyone else's house but mine. Let's see how long I can keep that up!
For my hubster's chavrusa, I bought:
The Shmuz on the Parsha
coffee table hardcover with clear plastic cover, $30,
The Shmuz
Of course, you can also find the book at your local Jewish book store. However, the Shmuz has a buy 1; get 2nd book for 50% off sale. Of course, the second book is for moi!
As for my hubster, I decided to go the practical route this year. I will get him a challah board and knife.

Challah Board Basket, $50, TES
I live in NYC, so I know I can find this locally near me!
I'm looking at inexpensive knifes...obviously it has to be chic and functional. Here's what I found so far:
Shabbos Challah Knife, $20,
Jewish Museum


Challah Knife, $6, Bake Deco
Most likely, I will find the knife locally for cheap since Hanukkah is nipping at my heels.
So far, I have a coupon from Eichlers, Children's Place, and Bed, Bath, & Beyond. So I will try to put them to use!
My family is extremely small.
So, I'll start with the basic guidelines.
What is a
kosher menorah
? This a link to the Chabad site which gives you the skinny.
I think a mitzvah should be beautified. I'm a creative type so the marriage between aesthetics and function is extremely important to me. Also, Judaism is a way of life not a prison term. So there are plenty of options for those who want to stay traditional and those who are more daring.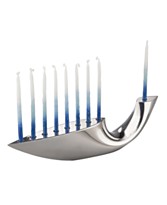 Sleek Mod

metal alloy, "Illume" by Nambe, $175,
Macy*s

Art Deco Menorah I
metal, $50, Target
Cubist Menorah
ceramic, modular, $239,
Modern Tribe

Glass Menorah
blown glass, Roost, $48, orange & pear
Matchbox Menorah
oil menorah, ceramic, "Last Match" by Kathleen Walsh,
also in black, $240,
Unica Home

Art Deco Menorah II
painted metal with Austrian crystals, $288, Lenox Judaica
Cat children's menorah
painted metal, $34,
Eichler's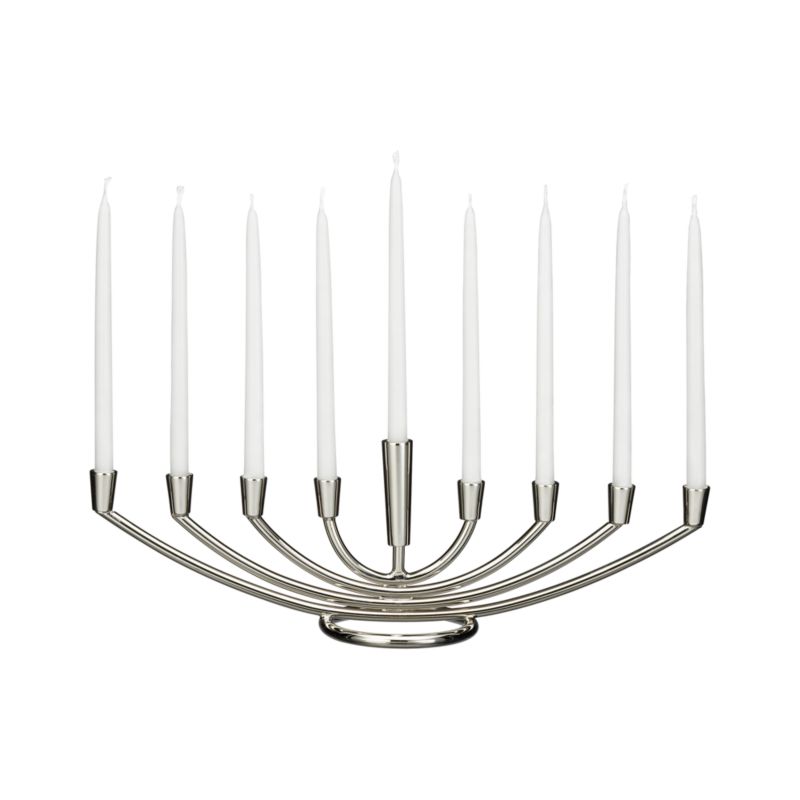 Traditional Modern
nickel plated stainless steel, $27, Crate and Barrel
So, here's the first set of nine menorahs. So discuss my compatriot fashionistas!
Coming up this week: more menorahs (duh!), gifts for under $50, DIY gift options, and of course holiday outfits.
O.K. I tend to shop at the last minute because my life is beyond hectic. Hanukkah is around the corner, therefore, menorah talk ensues. Oil vs. candle types. What is a kosher menorah? Blah, blah, blah...
Current Mood:

sick
I watched "The Good Wife" yesterday online. This picture is from last weeks' episode titled 'Unorthodox.'
I loved the hat, coat, and jacket, Mrs. Loeb, the wife wore:
The show is set in Chicago. For the mid-west fashionistas, does this reflect Chi-town tznius style?
To me, she looked very New York. Slightly more stylish than the fashion-conscious BP chicks and definitely more covered up than UWS chicks.
Discuss!
and moi, of course....